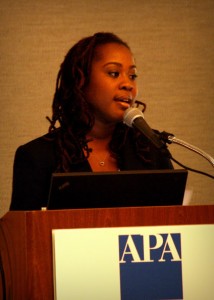 Vanessa Leon, founder and principal planner of Pinchina Consulting, is a Haitian American urban planner. Her prior experiences include working as manager of public policy at the American Institute of Architects (AIA) in Washington DC, as a policy consultant to New York City's Office of Financial Empowerment and as a research assistant to New York University's Furman Center for Real Estate and Urban Policy. She has also served as Vice-Chair at-large for the International Division of the American Planning Association (APA).
Vanessa earned a Master of Urban Planning, with a specialization in Economic Development and Housing Policy, from New York University's Robert F. Wagner School of Public Service. She graduated Magna Cum Laude from Brandeis University where she majored in African and African American Studies and in American Studies, with minors in Education Studies and in Social Justice and Social Policy. She has also completed a year of doctoral studies in Urban and Regional Planning and Design at the University of Maryland – College Park.
Vanessa is honored to be a fellow of the 2014 Masters Series for Distinguished Leaders, a six-month  program dedicated to equipping high performing African-American leaders to move to the next level of their careers while also empowering and adding value to their communities.
She enjoys playing her violin, dancing, reading or crocheting in her spare time. She is fluent in Haitian Creole, proficient in Spanish, and a native New Yorker.