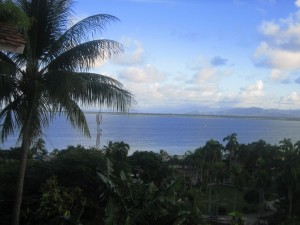 In the past several months, I have heard more about Haiti's tourism plans than the ongoing plans for reconstruction. This is not to say that tourism should not be included in a nation-building strategy. After all, Haiti's richly distinctive history, culture, music, literature and food make it worth exploring. Tourism Minister Stephanie Villedrouin, President Michel Martelly and Prime Minister Laurent Lamothe have had no reservations in compelling other nations, investors and the Diaspora alike, to come "experience" Haiti in their efforts to facilitate economic development. At the same time, promoting tourism as an economic development tool — without a broader framework for ensuring that its impact will actually enhance the lived experience of the least well off Haitian — is insufficient.
Again, the Haitian state is well within its right to redefine its global image and to restore Haiti as the tourist destination it once was.
For example, it is common knowledge that Bill and Hillary Clinton, honeymooned in Haiti back in the 1970′s, among other notables who have frequented the country throughout its history. Furthermore, Minister Villedrouin is correct in her constant reiteration that "the product is there." More than the sun, beaches and good weather that just about any Caribbean destination has to offer, Haiti has global history with the Citadelle being a World Heritage United Nations Educational, Scientific and Cultural Organization (UNESCO) site as the largest fortress in the western hemisphere, and Mole Saint Nicholas being the landing place of Columbus' New World discovery, in addition to other national treasures. The idea is that if people are willing to look beyond Haiti's present shortcomings of abject poverty, poor infrastructure and a weakened economy, then tourism can significantly help the nation address these challenges through economic development.
From my vantage point as an urban planner, economic development is a policy measure that brings outside funds into a community to raise the standard of living for an area's residents. This is often accomplished through basic infrastructure upgrades and by revitalizing a community's image or appeal so that it benefits from future investment and activity. In short, economic development is about improving the social and economic well-being of a community, not just about fostering a country's economic growth.
To promote tourism, Haiti's present efforts have included the construction of airports in Les Cayes, Île-à-Vaches and in Cap-Haïtien; building hotels in Port-au-Prince and Pétion-Ville; and opening a hospitality school, amidst other initiatives. However, for the countless Haitians who themselves do not yet have the privilege of leaving Haiti to be tourists elsewhere, physical and social infrastructure investments such as new roads, school buildings, public health services and workforce development (beyond tourism training institutes) can go a lot further in bolstering their daily realities. Attention to these concerns is just as important, if not more so, as marketing Haiti's food, culture and historic sites.
That is why it not enough for Haiti's latest tourism campaign to focus almost exclusively on increasing revenue for the national economy without adequate consideration for the aforementioned approaches to economic development. Economic development succeeds when there is sustained efforts to monitor how well people's daily are faring as a result of the monetary inflow from an industry like tourism. For instance, while Haiti receives $10 per passenger for the Royal Caribbean's private island resort in Labadee, which rakes in $6 million a year for the Haitian government's coffers, one cannot help but wonder how many more millions the Royal Caribbean makes in profits. All the while, communities trapped outside the resort's gates certainly cannot attest to subsequent increases in their standards of living from this arrangement.
To better advocate for tourism as an economic development measure, Haiti has to develop a clear and simultaneous strategy for how tourists' dollars will be spent towards improving the Haitian populace. Imagine if something akin to a neighborhood tourism council existed to increase citizen participation and to help determine which social or infrastructure project benefited from tourism revenue. This could better integrate local communities into the tourism economy rather than hopelessly feeling like tourism is happening to them. Regardless, the tourism sector cannot thrive on abysmal roads, traffic congestion and a subpar waste management system.
Neither can the Haitian people.
Developing a plan that funnels tourism earnings towards these and other national priorities would better ensure that the money generated from tourism actually remains on the island rather than returning to foreign conglomerates on the first flight (or ship) out. An earnest dedication to improving human capital, local economies and places throughout the country — along with strengthening Haiti's tourism allure worldwide — will say a lot about how committed the Haitian state is to rebranding the nation, and rebranding itself.
As originally featured in the Haitian Times. Photo is author's personal, taken in her paternal hometown of  Cap-Haïtien, Haiti.